My XV920R Page!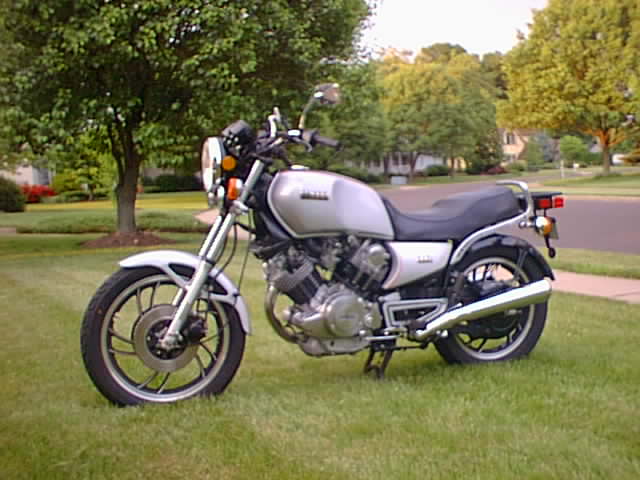 The Yamaha XV920R holds a special place in my heart. On my very first coast to coast motorcycle adventure back in 1998, this was the bike that I was riding. I bought the XV-R (AKA Euro-Virago) near the northwest corner of the country, way up in Twisp, WA and rode all the way across the continent to Bucks County, Pennsylvania. My goal was to cover one state per day and stay on two-lane highways, leaving the droning interstate work to the Harley boyz (lol). Now, a straight line may be the shortest distance between two points, but it's usually not the most interesting, and this trip certainly typified a lack of straight lines! In fact, after three consecutive 500 mile days, I was still no closer to home than when I first threw a leg over in Twisp! However, what I had seen and done was cover an afwul lot of interesting sights, landmarks and great roads in the states of WA, OR and CA, including places like Mt. St. Helens, Crater Lake, and Donner's Pass/Lake Tahoe to name a few. The next three days encompassed NV, UT and CO, all three of which were almost too beautiful to describe, especially Utah. If you have not been through the canyons of Southern Utah, you need to put it on your life list!
Once I left the front range of CO behind me, the trip (through eastern CO, KS and MO) became somewhat straighter, but nonetheless cathartic. There is something to be said for being alone in your helmet with your thoughts, while thousands of miles from home, on two wheels, by yourself, riding a 16 year old motorcycle that you've owned for five days! It was quasi-religious! When all was said and done, my adventure was a 10 day, 5,000 mile trip that I'll never forget!
Precursor to the big bore Viragos that would follow, the XV920R was a short run model, only imported for two short years in 1981-82. It was marketed as an alternative to the buzzy UJM's coming out of Japan at the time. It sported a 920cc 72º single crankpin v-twin, low-set handlebars, rearset pegs, pressed steel monocoque frame, monoshock rear, air adjustable suspension at both ends with 15 point damping adjustment in the rear, dual front disc brakes, dual horns, a large 5 gallon fuel tank, and a massive eight inch headlight that looked like a freight train coming at you on the highway. Most notable, however, and in keeping with Yamaha's tradition of being ahead of their time, the most interesting technical innovation was a fully enclosed #630 chain drive that ran in a bath of viscous lithium grease.
Yamaha had originally intended to market this motorcycle as a 1000cc model, but fell victim to the Harley Davidson import tariff rules of the era and thus had to be scaled down to a lower displacement for the US market. That same year (1981) Yamaha did launch a 1000cc version of the same bike in Europe called the TR1, which was and continues to be very popular.
My Favorite XV Links
Virago Owner's Club
Manfred's Europage
XV tech info!
VOC forum!
Home